FAS Ported Snout & Bearing Plate
$2,277.15

Package includes billet bearing plate and new ported snout – larger throttle body is optional
After porting the stock bearing plates for a while now we wanted to go beyond what was possible with the oem bearing plate. We searched to completely redesign the bearing plate to make it flow better than any example on the market while also being stronger and more ridged than the oem version.
There is not much you can do with the stock aluminum casting plate without completely losing all strength and integrity in the plate. The stock oem castings are VERY inconsistent when casted which causes a lot of issues when CNC porting. The Porous cast aluminum design is easy to mass produce but is a weak material.
We thought about what to do next and decided, why charge money for a Ported OEM Bearing Plate when we can make a more Efficient higher flowing bearing plate that will be, in every way, head and shoulders above an oem ported bearing plate?? With No core charge or core exchange needed!!! Shipped straight to your door with an optional Bearing Plate Removal/Install Kit!!!
So we decided to make a bearing plate out of Billet aluminum. This allowed us to open up more areas in the bearing plate without losing any integrity in the plate. After months and months of design and engineering we have come up with our final product. This bearing plate is much more efficiently designed overall then the oem bearing plate. The OEM plate had its flaws. We mated it Perfectly to the blower case where the oem plate mates up very poorly, not a true match. This will cut down on turbulent air.
We were able to make the support legs in the plate much skinner than even a ported plate because we could extend the legs all the way through the plate instead of them only being attached at a small point causing weakness when ported.
***BE SURE TO REMOVE YOUR LOCATING PINS FROM YOUR OEM BEARING PLATE TO RESUSE IN YOUR BILLET BEARING PLATE**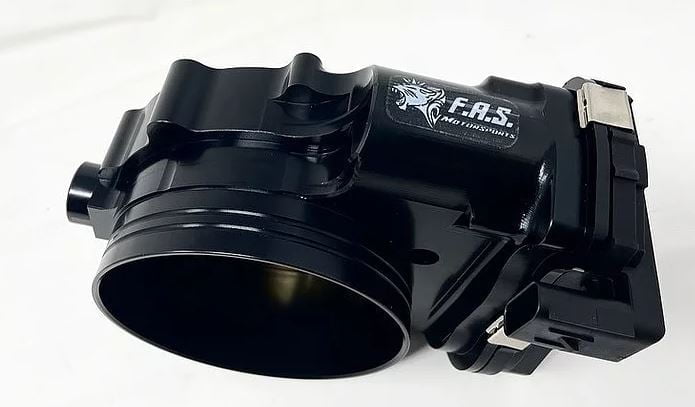 Frequently Asked Questions
Click on a tab below to learn more about each item.